W-K Trucking Inc. believes that safety should be of the utmost priority. All our drivers are required to have certificates in H2S Alive, TDG, WHMIS, PST, CSO, Confined Space, Fire Extinguisher Training, Hours of Service & Fatigue Management and First Aid. Our shop maintenance and management personnel also have Confined Space Entry with Rescue.
We have a custom Health, Safety and Environment Program that we have audited every year to maintain our Certificate of Recognition. Statistics are kept of medical aid incidents, lost time accidents, and near-miss reporting.
W-K Trucking Inc. has an active disability management program and incorporates modified duties to strengthen the commitment of an early and safe return-to-work for any injured employee.
All employees of W-K Trucking Inc. undergo both pre-employment drug testing as well as post-incident and reasonable suspicion testing during the course of their employment.
It is our policy that all employees wear the appropriate protective apparel at all times. CSA approved hardhat and work boots, fire-retardant coveralls, and safety eyewear are all mandatory.  Each driver also carries a personal H2S monitor.
Any oil company representative who is interested in specific policies or procedures may request additional information by using our information request form.  In our members area, oil company personnel can log in to the protected area of this site to access records of our equipment including mechanical and tank inspections and a drivers list with current training information. Our HSE program is also available in this area for viewing.
We are members of both www.complyworks.ca and www.isnetworld.com  where all of our company safety information is available to owner-clients.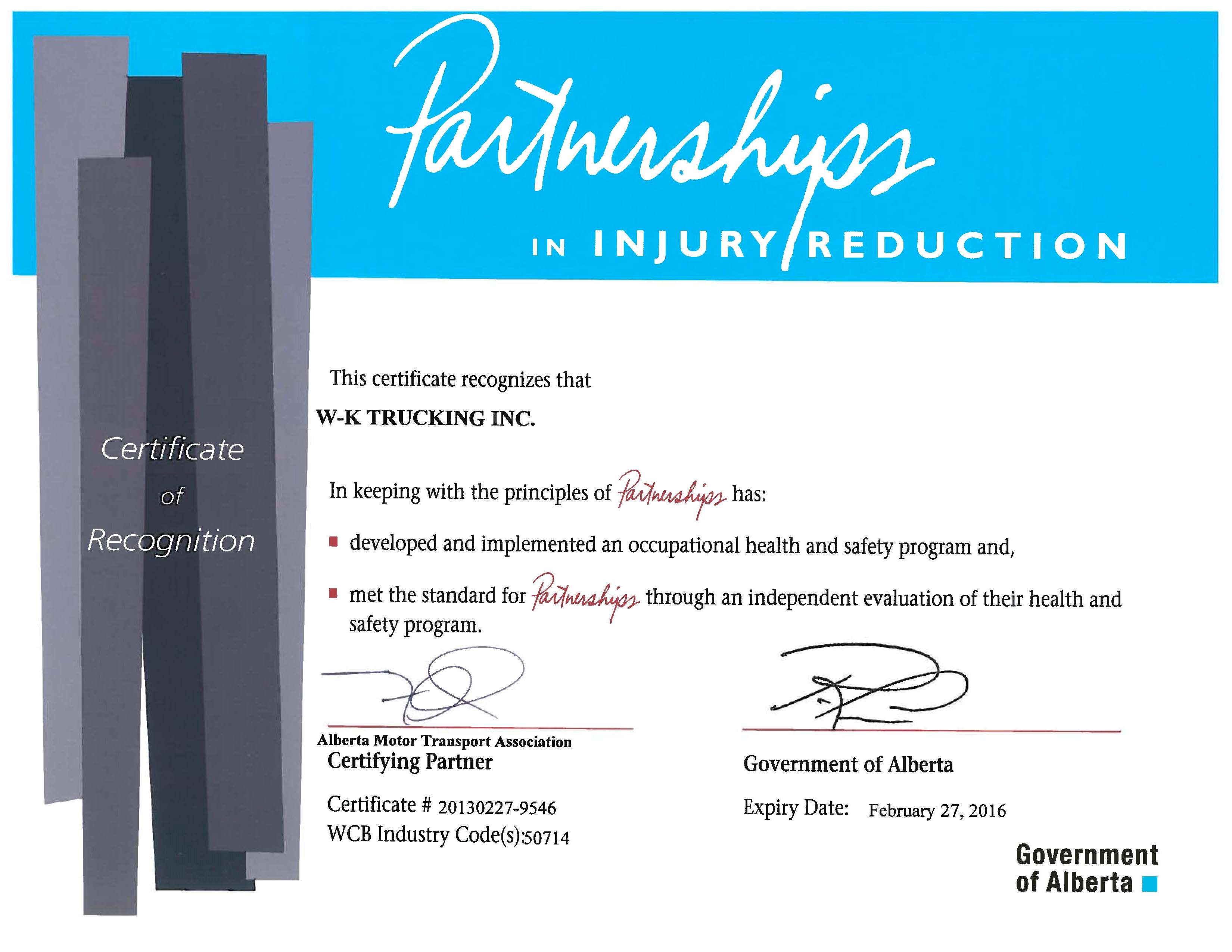 COR Certificate
Next External Audit March 2021
Next Maintenance Audit March 2020
2018 External Audit Score 94%.  Please contact us if you would like a copy of our audit results. In June 2010, W-K Trucking Inc. was welcomed into the Partners in Compliance program. We are proud to be members of PIC, an elite group in the transportation business.
The oilfield industry is serious business.
One of our owners is accessible to all our clients to solve issues or make improvements as they are required.